Follow the White Rabbit : Our Final Window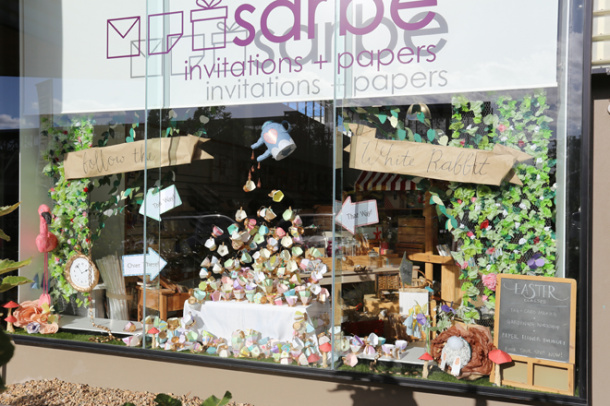 The Mad Hatter's tea party is about to start, and what a colourful mess has been made! Our window features 298 teacups lovingly made by volunteers from our local community, and don't they look stunning!
We have an assortment of handcrafted teacups with ribbons, drawings, paint splatters and paper collages of all shapes and colours. Look in our window and you'll also see beautiful paper flowers, mini toadstools, a bright pink flamingo, vertical hanging gardens, a quirky blue teapot and the famous white rabbit with his gold pocket watch – bringing all the elements together to create the magical Alice inspired display
for our final window installation!
A huge thank you goes out to our wonderful crafty volunteers :
Mary May – Samantha Fletcher  – Jessica Yim – Morgan Liu – Morgan & Ciarn – Oliver Nihot – Kaz Vick -
Margaret Sykes – Rhonalyn Orriss – Gail Lobo – Carmen Malss – Sarah, Lily & Molly Harris -
Carly, Leila & Coen Modlich – Angela Jordan – Kidnee (Kate) Soden – Robyn & Liva (Olivia) Sergi -
Kaye Clark – Ali Curtis - Parris Tiers - Christine Groux – Oliver Williams – Natalie Cochrane -
Michelle Dytor – Miu Fujii – Charlotte Byrne – Annabelle Chase-Smith – Eun-Hyang Cheon -
The Southport Primary School (2014 Prep Class)
- click through the album above to see more photos -

Thank you everyone for your support and for helping us put together this masterpiece! You all have such great talent and it was a pleasure working with you. If you didn't get a chance to decorate and make teacups for the window, but love the idea, please follow this link to download the free printable template (bases for the teacups are available in store).
"… Alice started to her feet, for it flashed across her mind that she had never before seen a rabbit
with either a waistcoat-pocket, or a watch to take out of it, and burning with curiosity,
she ran across the field after it, and fortunately was just in time to see it pop down
a large rabbit-hole under the hedge."
- Alice's Adventures in Wonderland by Lewis Carroll -
We're off to follow the white rabbit, but remember our little Southport shop is still open until the 10th of May, and we will continue after this date with our online store and blog to inspire you in your creative adventures!
We wish you all a safe and happy Easter!
PS. We will be closed on Good Friday, Easter Saturday, Easter Sunday, Easter Monday and Anzac Day.